Web Design based in Carmarthenshire West Wales
MWD Hosting is able to provide an affordable, professional website design and SEO. Website marketing and branding (Facebook, Twitter, LinkedIn, Instagram, YouTube, etc) as well as low-cost logo design. Fluid Mobile phone and tablet computer ready web design. Welsh website design based in Carmarthenshire and Ceredigion in West Wales: great local service for UK small businesses from a professional, affordable, friendly website designer based between Carmarthen and Newcastle Emlyn in Carmarthenshire and Ceredigion, West Wales.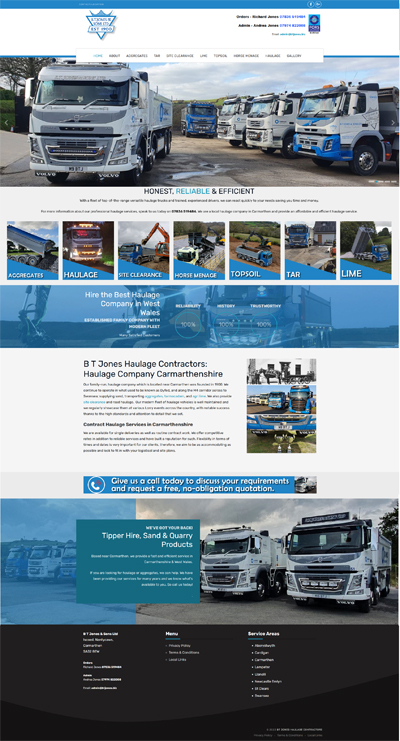 We have made websites for the construction industry, agricultural industry, holistic therapy websites, online shop websites and many more in Pembrokeshire, Ceredigion, Carmarthenshire, Powys, and Glamorgan but have clients throughout West Wales, South Wales, England, and even Mexico. No matter where you are located - we welcome your enquiry!
Website Re-Design Service based in Carmarthenshire

As well as our affordable web design services, we can re-design a tired old website that needs to be brought into the present. There are new online requirements and regulations which include mobile ready websites, blogs, and inclusion of social media. Here at MWD Web Design, we strive to provide our customers with a high-quality service in web design and development, as well as working alongside business owners to deliver websites suitable for their needs. Our aim is to enhance the experience and journey of prospective and current customers by making each website personal and unique.
CREATIVE and AFFORDABLE. Facebook video advertising
Facebook video advertising is affordable and accessible to all. We will work within any budget to create a Video advert (s) for your business, to showcase it in full or just certain aspects depending on your needs.
Facebook video for the top section of your facebook business page instead of an image to be more engaging. Small facebook promotional clips for an event or item for ale etc.
Website Design Carmarthenshire Standard Services Includes:
Professional Website Hosting
Updating/security patching of CMS (Content Management System – also keeps site 'mobile-friendly')
Site Statistics (currently Google Analytics)*
Inclusion in local directory (SEO optimised page to help your site in Google – permanent) Comin Soon
Occasional minor edits to your site for free
Advice and help by email or on the phone anytime
Affordable Web Design for Agri business and Farmers across Wales
Being based in the countryside in Carmarthenshire it is no surprise we have a large number of websites designed for agricultural clients. We like to work closely with our agricultural and farming clients to understand what they want their website to achieve and no matter what the nature of the business MWD Hosting uses sound, proven principles when designing and developing our sites. We want your website to become an effective marketing tool so that it makes an immediate positive impression.
Good website design can be the cheapest and most effective marketing method for your business. Commercially there is much more to web design than just designing a website. All my business websites are designed and optimised to help them get found on the search engines, thus increasing your business's potential.

Mobile-ready websites for West Wales. Contact MWD-HOSTING today to get a quote for a mobile-ready website in Ceredigion, Carmarthenshire, and Pembrokeshire.
Trusted Website Design in Carmarthenshire Wales

Below are quick examples of websites either designed or re-designed for businesses in the Carmarthenshire areas.
Railway Sleepers West Wales visit
Cymru Pallets Llanelli Visit
Llangain Designs Architects Llangain Visit
Telgwen Production Crew Company Visit
click to see more clients in Carmarthen areas